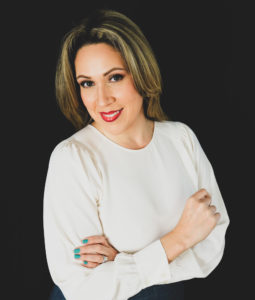 February is Insurance Careers Month, and it has never been a better time to consider the exciting opportunities available in our diverse, innovative and growing industry. As a recipient of Business Insurance's Best Places to Work in 2020, Tokio Marine Highland is creating a culture and environment where employees with diverse backgrounds and skill sets can thrive and grow their careers.
Here's why Lydia Martinez, Senior Underwriter, chose a career in insurance:
Why did you choose a career in insurance?
Some would call it destiny or fate, and some have even told me I was meant to do this. However, the truth is that I stumbled into insurance during my sophomore year in high school. It was a great way to make some extra cash after school and learn skills that I knew would help me in the future (little did I know how important the skill set would become!).
I worked my way through college and earned a position as a private client account manager for one of the area's largest independent agencies. I graduated Florida International University with a degree in criminal justice and the intent of pursuing a career in insurance fraud investigation with the Florida Division of Investigative and Forensic Services. However, after graduating, the insurance agency I was with was acquired by a leading North American insurance brokerage where I was promoted to Business Development Executive. I was honored to be the youngest and only female producer on the team, and the recipient of the top producer award at an offsite training academy sponsored by the brokerage.
My time in different roles within a large agency, and then for a national brokerage, taught me an invaluable number of skills and expertise. I realized that the insurance industry was far from one-dimensional and the opportunities were limitless. So I decided to adjust the sails, pursue my 220-General Lines Property & Casualty License and additional designations that would help me continue to grow in the industry.
Then in 2008, I found Tokio Marine Highland, my home for the past 12 years. It was here where it further solidified what I already knew – the only thing that can hold you back is yourself! Just when I thought the industry had nothing new to teach me, it proved me wrong. I learned a new skill, became an expert in a new product line, further sharpened an existing skill set and was completely pushed out of my comfort zone. I went from being the face of the product, per say, to being completely behind the scenes – underwriting, analyzing, assessing risk, making decisions that impact loss ratios and profitability – and I found a new passion! The best way to explain it is that I found yet another branch of interest in this oak tree of an industry.
What do you find most interesting or rewarding about your role?
At this point in my career as a Senior Underwriter overseeing a team of Assistant Underwriters, the most rewarding thing is training and developing new and existing employees. I love learning what makes them tick, what motivates them, what their passions are, hearing a fresh perspective and having fruitful conversations on the direction of the industry and how we can make what we are doing even better! Being in a multi-faceted role, I also deeply enjoy marketing our products by way of leading agency training webinars and continuing education courses, while maintaining production and underwriting responsibilities.
The most rewarding thing about my role is that it fulfills my creative side and my analytical side, allowing me an opportunity to find the missing link to solving a problem or reaching a solution that requires out-of-the-box thinking. Those moments remind me why this is my passion, why it drives me, and motivates me to continue pursuing ways to challenge myself and grow in my profession.
For someone who may have never considered the insurance industry for a career, what would you say to change their minds?
Simply put, don't judge a book by it's cover. Everyone needs insurance and this industry offers you options – marketing, sales, underwriting, operations, financial services, risk management, claims, information technology, analytics, and the list goes on and on! Yes, the industry has been around for a long time and, to me, that equates to strength, stability, and the opportunity to open doors for the next generation of insurance professionals.
Discover how you can join our team and grow your career like Lydia at Tokio Marine Highland. Visit our Careers page to learn more.