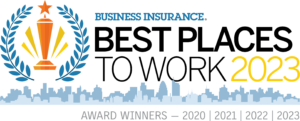 From our founding in 1962 to becoming a wholly owned company of the Tokio Marine Group in 2018, Tokio Marine Highland has strived to cultivate a culture where our employees lie at the heart of our organization. They are our foundation and the key drivers of all that we do in delivering on our commitments to our customers. While we have evolved from our roots as a family-run business, we have never forgotten what it means to be a family. That's why we have been named one of Business Insurance's Best Places to Work for the fourth year in a row.
Tokio Marine's "To Be a Good Company" philosophy is a shared vision we strongly embrace. This means looking beyond profits and fostering a culture where our employees are valued, engaged and empowered, and provided with the opportunities to enhance their skills and build rewarding careers.
Working at Tokio Marine Highland means being part of a team of dynamic professionals with a passion for service, innovation and collaboration. You'll put your expertise into action, work on game-changing initiatives, and be inspired by the best.
We believe we have the experience and expertise to offer the best solution for our clients. We need individuals with a strong desire to learn and to apply knowledge and skills to find the best answers. We want professionals with the entrepreneurial drive to stand out and aim higher, the willingness to question traditional answers, and if opportunity dictates, the confidence to sidestep the path of least resistance.
When you join our team, you will learn that integrity is our most valuable offering. We deliver results that make our clients' work easier. We fulfill their commitments as if they were our own. This is the central theme of our values and Tokio Marine's "To Be A Good Company" philosophy. It is also what makes working at Tokio Marine Highland a promising opportunity to learn, create, serve and succeed.
A Great Place For a Fulfilling Career
At Tokio Marine Highland, our success is ultimately built on the talents and skills of our people, drawing on their combined expertise, knowledge and willingness to collaborate to provide you with the best products, services and support every day.
Each team is led by industry veterans with deep product knowledge and a passion for building the business based on client success. We do our best to offer our employees a rewarding career that helps them grow, develop and play to their strengths.