Hurricane season begins June 1 and forecasters are gearing up for yet another above-average year of storm activity. Researchers from Colorado State University (CSU) are predicting 19 named storms during the Atlantic hurricane season, which runs through November 30. Of those storms, forecasters expect nine to become hurricanes and four to reach major hurricane strength of a category 3 or greater (see CSU chart below).
Forecasters from the National Oceanic and Atmospheric Administration (NOAA) reached a similar conclusion, predicting the seventh consecutive above-average hurricane season. NOAA is forecasting a likely range of 14 to 21 named storms, of which six to 10 could become hurricanes, including three to six major hurricanes (category 3 or greater).
Researchers point to the likely absence of El Niño, or the warming of waters in the central and eastern tropical Pacific, as the main driver for an above-average hurricane season. According to the report, the current La Niña conditions, with cooler than normal water temperatures, may continue to weaken and transition to neutral conditions by this summer. However, researchers say they do not anticipate El Niño for the peak of the Atlantic hurricane season.
So where will the 2022 season stack up against prior years? Phil Klotzbach, research scientist in the CSU Department of Atmospheric Science and lead author of the report, says this season exhibits characteristics similar to 1996, 2000, 2001, 2008, 2012 and 2021. Overall, researchers say storm activity in 2022 will likely be about 130% of the average season from 1991-2020.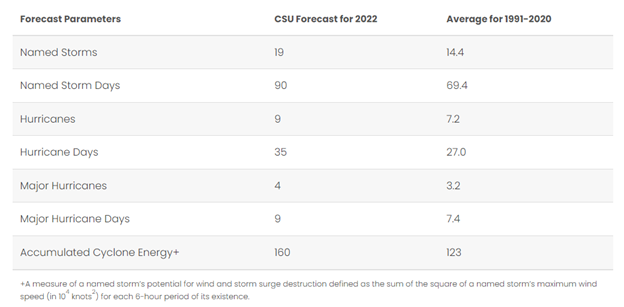 Are Your Clients Prepared for Hurricane Season?
Given the forecast for an active season and an increased risk of flood damage caused by heavy rains, storm surge and inland flooding, agents and brokers should make sure their clients are prepared. With inflation and the rising cost of construction materials sending recovery and rebuilding costs soaring, it's even more critical than ever before to ensure your clients have the coverage they need to protect their most valuable assets and help them recover quickly should they experience a damaging event.
Tokio Marine Highland's private flood solutions offer higher limits, broader coverages and more stable and competitive rates than what is available from the National Flood Insurance Program (NFIP). With more than 30 years of industry-leading expertise, our wide range of private flood solutions can provide your clients peace of mind. To learn more about our comprehensive flood offerings or to have us quote your potential target risks, view our Private Flood Insurance page, or contact us at PrivateFloodSolution@tmhighland.com.